Posted by Jacquie Lantern in HNN News on March 20th, 2017
It's almost that time of year again! If you don't know what I am referring to, then you are missing out! I am talking about TRANSWORLD! Transworld's Halloween and Attractions Show  is held annually in March at The America's Center Convention Complex in downtown St. Louis.
This show is MASSIVE, the only one of it's kind, and a must see! There is no way to truly describe the show to someone who hasn't attended –  it's breathtaking. Here is a floor map, to give an idea of it's size. The show floor is filled with everything you could want or need for your attraction. Masks, makeup, props, and costumes are literally EVERYWHERE. This is an awesome chance to check out merchandise up close and in person as well as try on some of the most high quality industry related items. Also, did I mention the DISCOUNTS? Many vendors offer special trade show pricing, so, not only can you meet with and speak to the people directly involved in the making of that special prop or costume, there is a great chance that you can purchase it at a special show price!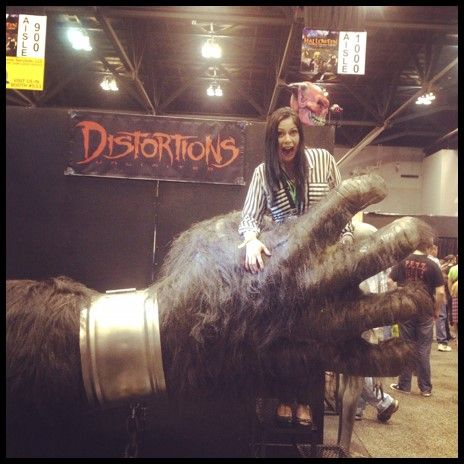 Are animatronics your thing? The Dark Zone is an explosion of animatronics. From small to gargantuan, this is the place to get your animatronics fix! Shrieks, screams and strobes await your every turn in here! Check out our video here! At 0:40 there is a glimpse into The Dark Zone!
Are you more into or need direction with the behind-the-scenes aspect of your attraction? Transworld has what you're looking for! Vendors in the area of ticketing, insurance, media, and more, are on hand to answer any questions you may have! Have you considered merchandise with your logo, but not sure what to do or where to start? Interested in adding paintball or laser tag to your attraction? Transworld will have a vendor for you!
Attention Makeup Artists! While browsing the seemingly endless amount of supplies and products, don't forget to check out the many FREE makeup demos happening on the stage as well as the show floor!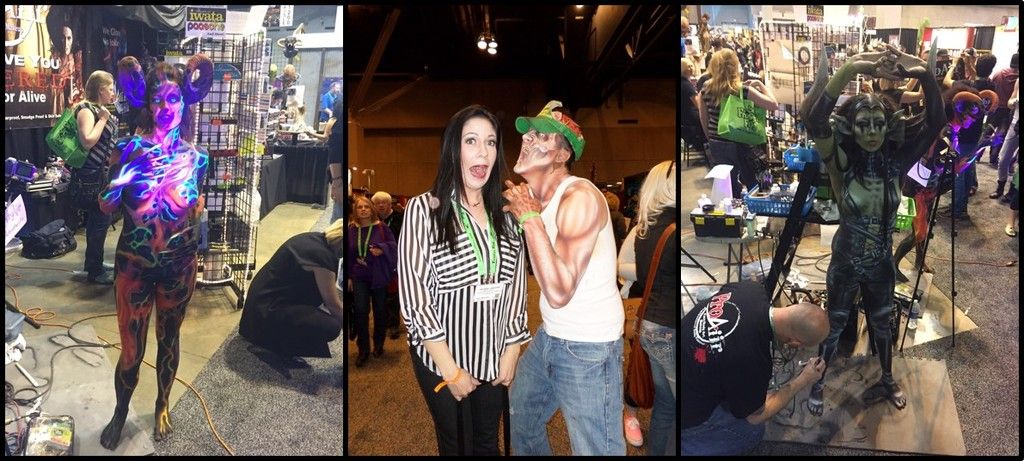 Have you been hearing about Escape Rooms and been wanting to learn more? Check out the Escape Room City section of the show and attend an Escape Room seminar!  As described on their website, this is "an area dedicated exclusively to the room escape and adventure game industries."
If you are reading this and thinking: "Oh wow, my haunt isn't THAT big yet. I'm not ready for ticketing, King Kong sized animatronics, or Escape Rooms… Maybe this isn't for me…"
WRONG!!
In addition to every type of vendor imaginable tailored to the haunt industry, Transworld also offers daily seminars! These lectures are highly informative and presented by some of the most experienced professionals in the business. This is your chance to learn about recruitment, safety, staff retention, makeup application, concessions, media, customer service, EVERYTHING! There are seminars for the beginner, all the way up to and including the seasoned haunter. There is most definitely something for everyone. Check out the incredible selection of seminars here!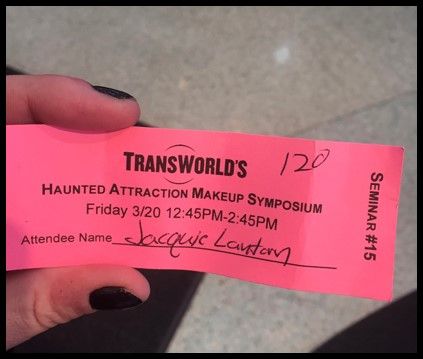 This year's show dates are 3/23/2017 – 3/26/2017. The show floor is open Thursday – Sunday from 10 am – 5pm and Sunday from 10 am – 2pm. However, just because the show has ended for the day, does not mean the experience stops with it! Transworld is a gold mine of networking opportunities! This is the time to make some lifelong friends (mark my words, it WILL happen!) and pick the brains of other like-minded individuals. This is NOT the time to be shy! However, if you are a little on the shy side, the after parties and other events are perfect ice-breaker environments that will make it easy for you to kick back, relax, and mingle with the macabre!

Please note that this show is not open to the general public. For information on purchasing tickets, what credentials are required to attend, and some other basic rules, please click this link.
I've only barely touched the surface of a few of the many, MANY highlights of this show. This will be my 4th year attending and I look forward to it every year! I can't wait to see all the friends I've made in the past and look forward to making new ones as well. If you are a haunter, this is where you need to be! See you soon!
---